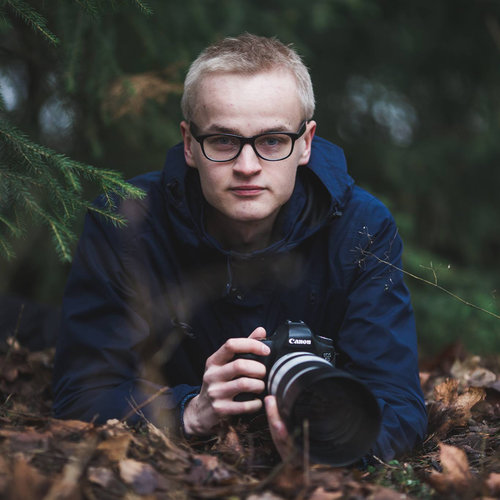 Ossi Saarinen is a 24-year-old full-time nature and wildlife photographer from Espoo, Finland. Nature and especially wild animals have been his biggest passion since he was a kid. Ossi used to spend most of his free time in nature observing wildlife with bare eyes and binoculars but in the age of 18 he took his first photos with a camera. Binoculars quickly changed into zoom lenses and he really fell in love with the challenge of capturing good photos.

Ossi photographs mostly animals close to his home, such as urban city foxes, squirrels and birds but time to time also travels to further places to look for more exotic species. Most of his time goes for searching, tracking and waiting for the animals, often at dusk or dawn when the animals are most active.

Hobby turned into a job and today Ossi also teach other people to take better photos of nature on his workshops/courses. He has also published a book about wildlife photography. Ossi wants to share all those amazing moments he experiences in the nature and he actively publish his photos on his social media channels. On Instagram his work is being followed over 245 thousand people all around the world. By his photos, Ossi wants to encourage people not only to go out and discover the nature around them but also to respect and protect it.

Ossi is always looking for new adventures and new animals to photograph. The "perfect" shot is still waiting to be captured.

Ossi Saarinen est un photographe de la nature et de la vie sauvage, âgé de 24 ans et travaillant à plein temps à Espoo, en Finlande. La nature et surtout les animaux sauvages sont sa plus grande passion depuis qu'il est enfant. Ossi passait la plupart de son temps libre dans la nature à observer les animaux sauvages à l'œil nu et aux jumelles, mais à l'âge de 18 ans, il a pris ses premiers instantanés avec un appareil de photo. Les jumelles se sont rapidement transformées en objectifs zoom, et il est vraiment tombé amoureux du défi que représente la prise de bonnes photos.

Ossi photographie surtout des animaux proches de son domicile, comme les renards, les écureuils et les oiseaux des villes, mais il se rend aussi de temps en temps dans des endroits plus éloignés pour y chercher des espèces plus exotiques. La plupart de son temps est consacré à la recherche, au pistage et à l'attente, souvent au crépuscule ou à l'aube lorsque les animaux sont les plus actifs.

Son passe-temps est devenu un travail, et aujourd'hui Ossi enseigne également à d'autres personnes à prendre de meilleures photos de la nature dans ses ateliers/cours. Il a également publié un livre sur la photographie des animaux sauvages. Ossi veut partager tous ces moments étonnants qu'il vit dans la nature, et il publie activement ses photos sur les réseaux sociaux. Sur Instagram, son travail est suivi par plus de 245 000 personnes dans le monde entier. Par ses photos, Ossi désire encourager les gens non seulement à sortir et à découvrir la nature qui les entourent, mais aussi à la respecter et à la protéger.

Ossi est toujours à la recherche de nouvelles aventures et de nouveaux animaux à photographier. La photo "parfaite" attend toujours d'être prise.

Ossi Saarinen ist ein 24-jähriger Vollzeit-Natur- und Tierfotograf aus Espoo, Finnland. Die Natur und insbesondere wilde Tiere sind seit der Kindheit seine grösste Leidenschaft. Früher verbrachte Ossi den grössten Teil seiner Freizeit in der Natur und beobachtete Wildtiere mit blossen Augen und einem Fernglas, aber im Alter von 18 Jahren machte er seine ersten Fotos mit einer Kamera. Ferngläser wurden schnell zu Zoomobjektiven, und er verliebte sich wirklich in die Herausforderung, gute Fotos einzufangen.

Ossi fotografiert hauptsächlich Tiere in der Nähe seines Zuhause, wie Stadtfüchse, Eichhörnchen und Vögel, aber von Zeit zu Zeit reist er auch an entferntere Orte, um nach exotischeren Arten Ausschau zu halten. Die meiste Zeit verbringt er mit dem Suchen, Verfolgen und Warten auf die Tiere, oft in der Dämmerung, wenn die Tiere am aktivsten sind.

Aus dem Hobby wurde ein Beruf, und heute lehrt Ossi in seinen Workshops/Kursen auch andere Menschen, die Natur besser zu fotografieren. Er hat auch ein Buch über Tierfotografie veröffentlicht. Ossi möchte all diese erstaunlichen Momente, die er in der Natur erlebt, mit anderen teilen, und er veröffentlicht seine Fotos aktiv in seinen den Medien. Auf Instagram wird seine Arbeit von über 245 Tausend Menschen auf der ganzen Welt verfolgt. Mit seinen Fotos möchte Ossi die Menschen nicht nur dazu ermutigen, hinauszugehen und die Natur um sie herum zu entdecken, sondern diese auch zu respektieren und zu schützen.

Ossi ist immer auf der Suche nach neuen Abenteuern und neuen Tieren zum Fotografieren. Die "perfekte" Aufnahme wartet immer noch darauf, eingefangen zu werden.